Recently I've been party to a number of very different discussions involving the c word. I'm always a bit wary of these. Sometimes — as happened in one of these conversations — you hear an artist (and in this case rather a well-known one) pouring scorn on the mere craftsperson who has not been to art school: "without an art education, you cannot produce any worthwhile work".
(No, I'm afraid I'm not joking: that's what she said. I won't bother to list counterexamples here, though – I bet you can all name a dozen straight off. And then of course we need an agreed definition of "worthwhile". I may not have had much art education but I've had an awful lot of maths education, and I can spot a flawed argument at a hundred paces.)
But there are aspects of the discussion which are much more positive and engaging than that kind of sweeping snobbery, and I've enjoyed many of the books on craft which have been published lately (I've even gone so far as to blog about one of them). That earlier post, about Matthew Crawford's The Case for Working with your Hands, mentions that I bought the book after hearing about it on the radio, and that does seem to be my besetting weakness. It was an episode of Thinking Allowed which introduced me to David Gauntlett's Making is Connecting, and I was so struck by what the author was saying that I actually sat down and wrote to the programme. This is the sort of thing I often think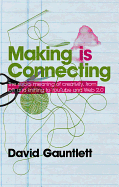 of doing but never actually do, so I rather surprised myself.
The reason for my particular surge of interest was that Gauntlett was talking variously about craft communities and online communities and craft communities online. Well, weavers know all about those don't we? We've got blogs, we've got Yahoo groups, we've got Weavolution, we've got the Online Guild…  So I wrote to Thinking Allowed to say so.  And now my wee email appears right here on David Gauntlett's research blog. If I had anticipated this I might have expressed myself a little differently, but I was asked if it was OK to publish my words and I still agree with what I said. I love our online weaving communities and I honestly don't know what I'd do without them.
Anyway, I'm sure Professor Gauntlett will be pleased that I have gone out and boosted his royalties, and I am already well into chapter two. I've also just finished On Craftsmanship by Sir Christopher Frayling, so the craft discussion library is growing.
"craft discussions" was posted by Cally on 13 May 2011 at http://callybooker.co.uk